Kim Saganski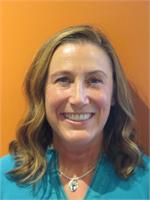 Kim completed the Intensive Yoga Studies and the Apprenticeship Programs at Discover Yoga in Redmond in 1998. She is continually exploring the practice of yoga as a student and a teacher (both locally and internationally). She invokes a friendly and safe environment in her classes and enjoys composing new and different methods to approach the specific needs of each student and to provide appropriate challenges.
Kim uses yoga to bring clarity and focus to the mind, energy and relaxation to the body, and a chance to connect with one's self. She focuses on becoming more aware of the body as well as the mind in order to reduce dis-ease caused by stress and promote a healthy lifestyle.
Kim Saganski instructs the following:
A 90 minute intermediate to advanced yoga practice for students familiar with yoga. Students will learn about the form and function within the yoga practice through asana (postures) and variations combined with breathing and meditation techniques. Students are lead through a yoga practice to enhance focus, balance, flexibility and strength and find their mental and emotional edge in this safe and supportive community. Refer to the instructor bio for teaching style and background.