Beth Hafner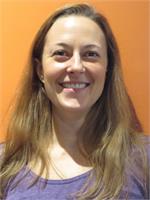 Yoga has been in Beth's life since 2003, when she was drawn to it as a way to recover and heal from back pain. She completed her teacher training through the Discover Yoga Instructor Certification Program in 2008. In her own practice, she has found that a challenge on the mat often mirrors a challenge in life. Beth's classes allow each student to explore this from their own unique perspective. In yoga and in life, it is Beth's continual practice to walk in awareness, observation, strength and flexibility.
Beth Hafner instructs the following:
A 75 or 90-minute yoga practice for students familiar with yoga. This class focuses on breath awareness through a slower mindfulness practice and synchronized movement in traditional viniyoga postures. Students are offered ways to build strength, flexibility, endurance, balance, focus and relaxation through asana, pranayama, chanting and meditation. Students are encouraged to honor their own abilities. Choices are given during the yoga practice and students are encouraged to adapt postures to simplify or offer challenge. Let the instructor know if you have any physical limitations or questions. Refer to the instructor bio for teaching style and background.




Explore the energy in your body. You will learn tools to tap into the 3 lower chakras (the energy centers of the body), gain an understanding of your personal energy, and observe how daily interactions influence your energy and emotions. Become more aware of how to support yourself. We will use yoga postures, meditation/visualizations, and journaling to explore the chakras. Please dress in clothes comfortable for movement and bring a journal if you have one.

Cost is $45 for this 3 hour workshop on Saturday, March 4 at 1pm.