Allen Moore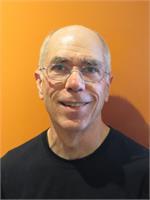 Allen started practicing yoga in 2007, seeking relief from low back problems. Since then, he has found that relief, and more. As a way of deepening his practice, he completed Discover Yoga's Instructor Certification program in 2012, and is registered with Yoga Alliance at the 200-hour level. He believes in the importance of "teaching the students who are in front of you", and his classes reflect that focus. As his students are encouraged to adapt their yoga to their own needs, he tries to adapt his teaching to whoever is in the class. He also likes to add an element of playfulness, whether it's flowing poses together in a different way, or merely finding the joy in linking breath and movement. He currently teaches an All Levels class on Thursdays at 5:30PM, as well as occasionally substituting for other instructors.
When not practicing yoga, he works as a software engineer, finding yoga helpful there as well in reducing stress and maintaining his overall health and fitness.
Allen Moore instructs the following:
A 75-minute yoga intermediate practice for students familiar with yoga. Enjoy a yoga class that helps you to unwind and move into the evening more relaxed and energized. The class focuses on viniyoga postures combined with breath in a unique sequence focused on the needs of students class. Refer to the instructor bio for teaching style and background.