Gloria Harris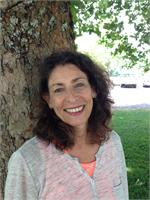 Gloria has been practicing yoga since 2000 and has recently completed her 200 hour RYT certification at Discover Yoga. She began practicing yoga to improve flexibility and low back issues, and realized over time, that yoga was so much more. It's now an integral part of her life, and has helped her navigate life's journey with more acceptance and compassion. Recently retired from corporate life, she is now enjoys sharing the benefits of yoga with others and is pursuing her 500 hour RYT certification. Gloria also enjoys spending time with family and friends, traveling, reading, gardening, walking/hiking, knitting, cooking and eating!
Gloria Harris instructs the following:
A 75-minute yoga practice for students familiar with yoga. This class focuses on posture, flexibility, joint safety, intentional movement, and breath. Level 2 offers more options for challenge compared to Level 1. Students are encouraged to honor and listen to their bodies whether that means physical limitations or a desire to go deeper. Refer to the instructor bio for teaching style and background.