Lauren Guzinski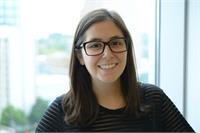 Lauren found yoga during college as a means to connect with herself and quiet her life in the midst of a busy day. Yoga became a way to encounter stillness. Through her practice she learned to accept life and its everyday challenges with compassion and gratitude. After relocating to Washington from the East Coast, yoga became a grounding practice through this change and she began routinely taking classes at Discover Yoga, and received her 200 hour RYT in 2016. I have a passion for people and helping them realize their own unique gifts through yoga practice. I believe in helping the individual meet the practice where they are and aim to gear classes towards the students. I invite you to come join me and share your practice, grace and strength.
Lauren Guzinski instructs the following:
A 75-minute yoga intermediate practice for students familiar with yoga. Enjoy a yoga class that helps you to unwind and move into the evening more relaxed and energized. The class focuses on viniyoga postures combined with breath in a unique sequence focused on the needs of students class. Refer to the instructor bio for teaching style and background.




A 75-minute yoga practice for beginning students and those returning to yoga after a break. This class focuses on posture, flexibility, joint safety, intentional movement and breathing in a supportive, non-competitive environment. Students are encouraged to work at their own pace and listen to their bodies whether that means physical limitations or a desire to go deeper. Refer to the instructor bio for teaching style and background.